Educating the un-educated and skilling the un-skilled is one of the primary objective of Niveda Foundation's existence. We are committed to ensure that maximum children are covered under our education programs.
Some of our key objectives for education and skilling include the list below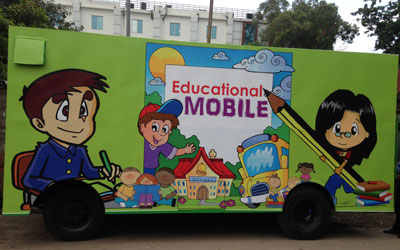 Formal / Non-Formal Education Education Scholarships Skilling Programs Women Adult Education Programs Niveda Mobile Schools
Niveda Vidya Mandir
IT learning center Niveda stitching and designing center
---
The Mobile School Initiative
Niveda Foundation launched an Educational Mobile School in the slum cluster of Sector 9 and Sector 10 Noida. The Show was inaugurated by Shri NP Singh, District Magistrate Gautam Budh Nagar, on 15th August 2016.The project is sponsored and Supported by Gautam Budh Society.
Under this project Niveda is giving free education via Mobile Van. Around 64 students of the slum basti of sector 9 and 10 of Noida get benefit with this initiative with every new session. These students will be educated and groomed for six months and further the students would be sent for Formal Schooling.