As the corona virus disease (Covid-19) spreads across the world, we are reminded of the frailty of the human condition and of a world that has been halted in time like a deer caught in the headlights. We hear about historic pandemics and biblical plagues, but seldom has there been such a challenge to modern civilization, one that has pressed the pause button on lives and livelihoods. With over 28 million cases and over 900,000 deaths, this pandemic is scaring the whole world. Almost every country is under threat and most of them faced lockdown situations to stay protected.
Economists warn that the damage to the economy is likely to be similar- or worse – to the Great Depression.
7.8 billion Humanities have surrendered to the Covid-19 pandemic and life has diminished to the limits of the home. With the battle against the virus, we, the 135 crore Indians now are also fighting a combat to win in opposition to starvation, jobless daily wagers, economic downfall, proper knowledge of sanitization and the list continues with the days along.
While half of the country is worrying about the lifestyle, prospects, career, proper sanitation and most importantly trying to cope up with the isolation without getting bored, the other half just losing their sleep thinking about FOOD and their EXISTENCE. If the virus doesn't kill them, hunger will surely do. Social distancing, basic hygiene and sanitation are all vague concepts to them. Therefore, it is every citizen's duty to help our brothers and sisters during this pandemic. It is time to react and we are trying to do everything possible at our end. We also encourage others to do the same because every single drop counts.
IT IS THE TIME NOW – 'We must do what we can'
So, we at Niveda Foundation stepped up in this tough time to provide the less privileged mass with not only the basic essentials but also with our love and support.
Impact we made:
We have taken some initiatives to support people in need. Our team at Niveda Foundation is committed to do every possible thing we can to ensure the help reaches the last man in the queue.
Health is Wealth
We have taken initiative to bring primary health care and sanitization kits to the doorstep and promote healthy behaviour among the mass. At present we have distributed around Cotton Reusable Mask to more than 1500 people and Sanitizer to more than 1000 people in Noida and aiming to reach more clans in upcoming days.
Sharing is Caring
A complete Food Distribution Drive, sharing food supplies and tetra packs for families in rural areas across Delhi and its surroundings with community kitchen facilities has been launched from time to time. So far, we came up with Ration to 2000+ families and migrant daily wage laborers. Our aim is to provide more food meals and rations in approaching days. Provided Juices and Chach to more than 50,000 people.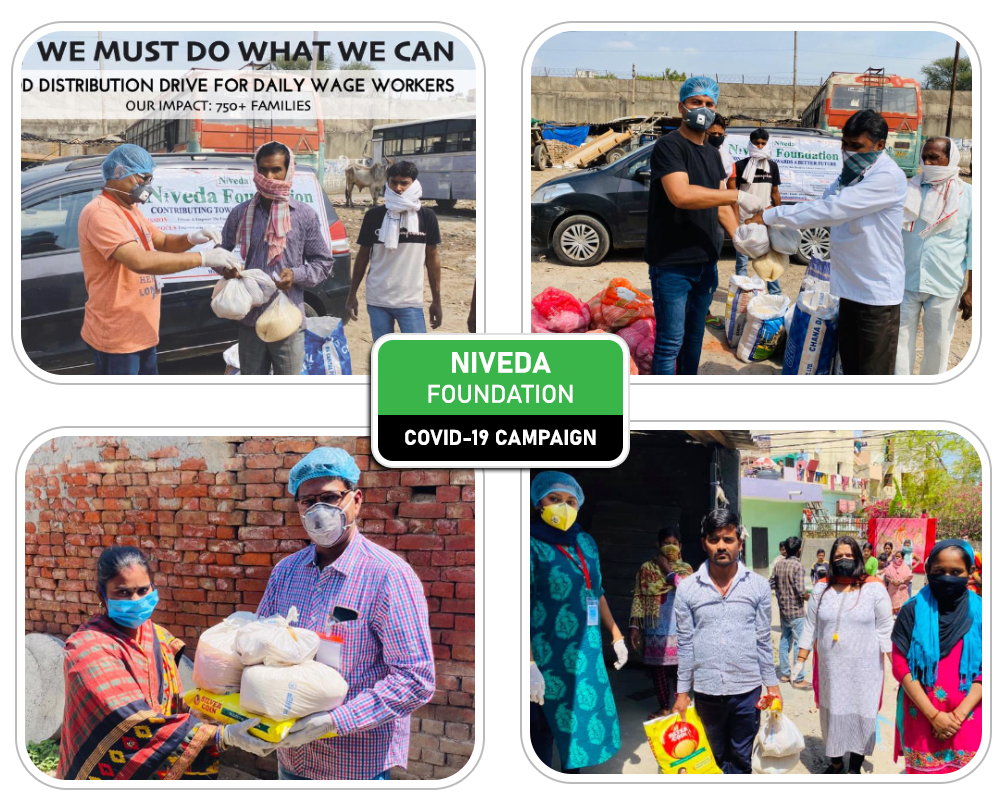 Empowering Women
Not only by providing hunger survival kit or health support, but we are also into mask making at our skilling centers and trying to help the community women. Further initiatives are taken from time to time to ensure we are continuously working towards this goal.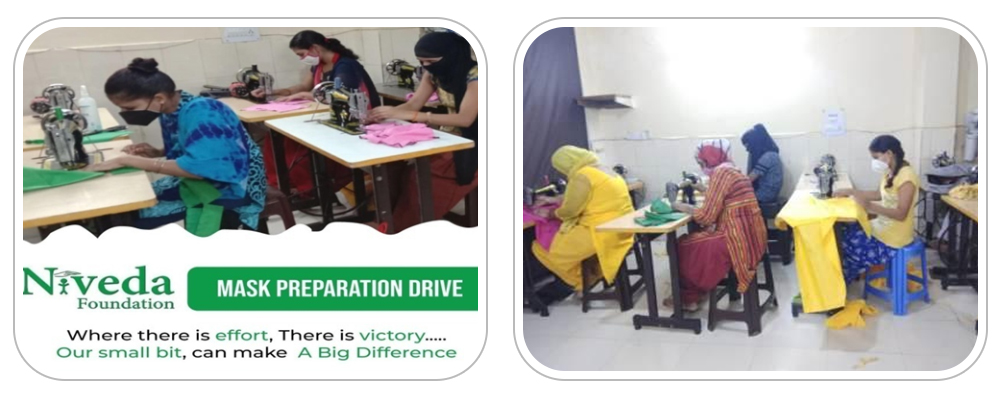 STAY HOME STAY SAFE- TAKE PRECAUTIONS
Coronavirus vaccine is still too far away but researchers are working day and night to find the cure. We are hopeful but unsure about where all this will end. Still we have a fair chance to reduce the risk of getting infected by following the physical distancing rules to stay protected from COVID 19.
Wash your hands in regular intervals for at least 20 seconds
Do not touch your face, mouth and nose frequently.
Wear Face Masks to cover your mouth and nose
Keep a hand sanitizer with you.
Keep a minimum distance of 6 feet with another person while interacting.
Call the helpline number"1075" if you feel unwell.